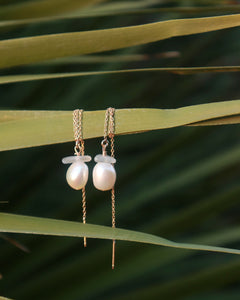 Sea Glass and Pearl Threader Earrings
ROOTSSEA
Regular price $65.00 Sale
These earrings are made with 2 small pieces of sea glass and 2 large AAA grade pearls
Sea Glass found in Laguna Beach, Ca 
Details:
Sea Glass will vary slightly in color and size 
Length: 3 inches
Available in 14k Gold Filled or Sterling Silver
Can be worn with one ear piercing, but recommended for two piercing or more, then threaded through
Comes with 2 earring backs
Custom Orders Available
Sea glass is any broken piece of glass from a bottle of beer, to vintage headlights, to handmade pottery and beyond. All sea glass is at least 5 to 50 years old and sometimes up to 100 years old or more! This process is called ocean tumbled and it makes the gems completely smooth with no rough edges, this also means we NEVER use a machine to tumble! The wire used is either sterling silver, gold filled, or copper. All glass is sold by rarity and depending on where the stone was found. Thank you and Enjoy!