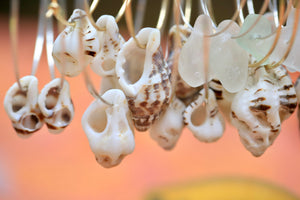 Sea Shell Hoop Earrings
ROOTSSEA
Regular price $0.00 $50.00 Sale
These earrings are made with 2 hand forged seashells, available in 4 different colors! Each is hand drilled and added to 2 high quality handmade hoops. Wear these to the beach, out on the town, or add to any outfit! 
Details:
Sterling Silver or 14k Gold Filled handmade wire hoops
Available in White, Coral Striped, Spotted, and Black Striped seashells
Hoop Sizes:

MINI 1.25 inches
MEDIUM 2 inches
LARGE 2.5 inches 
Size and colors of shells may vary slightly
Custom Orders Available
All items are made to order 
Please allow 5-7 business days for fulfillment all items are made to order!